A book, some art, and a movie...
so, pretty much the usual
I really thought I was going to start vomitting up content more frequently...and then I dropped the ball yet again. Let's just say that I'm the only person in my household who thinks the time spent coming up with this drivel is a worthwhile endeavor. So it will always be a battle to find time to do this. If I didn't feel obligated to give Dan something to read and complain about, I probably wouldn't bother butting heads with the little woman at all.

Resurrection America


I was approached by another author selling on Amazon, Jeff Gunhus, to read his book and offer up an opinion. Enter Resurrection America. I'm happy to report that unlike some of the other books I've been asked to read and review, this was a book well worth reading. It was well-edited, the characters were generally 3-dimensional and fully-developed, and the story was adequately suspenseful and not entirely predictable (for me, anyway - but that could be because I'm just a simpleton). I didn't anticipate the ending at all or the many twists and turns of the story. If you like a good dystopian story with a little bit of conspiracy theory thrown in, if you harbor just a little concern about computers working their tendrils into every facet of our lives, and if you appreciate a story with little guys standing up to bullies...have I got a story for you!
Here's the setting: In the near future, the madness and madmen in the middle east have failed to be dominated by the constant efforts of the United States and its allies. More and more soldiers have been shipped out the the Middle East and returned traumatized and with missing limbs. But don't worry, we have fully-functional prosthetics in the future that are every bit as functional as the missing parts - and even stronger - thanks to being directly wired into the recipient's brain. The story's protagonist, Rick, is one of these prosthetic recipients. Beyond the Middle East, Europe is a mess thanks to the overwhelming Middle Eastern migration, Russia has all but collapsed, and China is overwhelming all its neighbors as it steamrolls over everything with its massive military. The White house is rubble after a jihadist attack and American dominance in the world is diminishing as it falls back into a protectionist stance and locks up its borders. Interestingly, one of the complaints of the characters in the book is about the shoddy undependable American-made electronics he now has to use with the cessation of all Asian-manufactured electronic imports.
He considered the chances that Manny's radio was receiving but couldn't send. It was possible. The last few years spent using American-made electronics had proven there was no end to the ways they could malfunction. He hoped his deputy just had a flat tire or some mechanical problem and that's why he wasn't at the mine where Rick had expected to find him. But another look at the fence told him there was more than a flat tire at work. He hoped there was a simple explanation for it all. The fence. Manny's absence from the spot of his last radio transmission. But his gut told him he was hoping for too much.
I drew comparisons, as I was reading Resurrection America, to a lot of different books/movies I'm familiar with. It started out feeling similar to the fine EMP-apocalyptic books of William Forstchen (One Second After and One Year Later - which I may be mentioning here sooner or later) and the TV series Designated Survivor. It slowly evolved into something closer to Terminator, the Matrix, or 2001: A Space Odyssey. And then ultimately, it unexpectedly ends like none of them. Or kind of ends, anyway. Let's just say Book #2 can pick right up where book #1 ended.
The title of the book has several meanings, but the first, and most obvious, is the name of the town the book's events take place within: Resurrection, Colorado. Resurrection is a small town that has been dying a slow, economic-failure induced death for years. The main character is a sheriff named Rick. So I, of course, pictured Rick Grimes from The Walking Dead every time I read "Rick" in the story. I don't know how close my mental image of the book's "Rick" was to the author's conceived image of Rick, but my mind's eye's Rick was a pretty bad dude. Bad in a good way, that is.
"That's nothing to you guys. You and I both know it," Rick said. "And I figure it's worth twice as much not to have the entire town up here a couple of hours from now picketing this place." Rick indicated down the hill. "Tomorrow's the Fall Festival. People from all over are coming into town. Most of them from other mining communities. Bet we could get a thousand people up here. The press would eat that."

Keefer narrowed his eyes, looking Rick up and down as if just seeing him for the first time. "Marines always were a pain in my ass."

Rick ignored Keefer's show of knowledge about his background. He almost let a Oorah slip, but instead just stared the man down.

"Fifteen million and I get three days," Keefer said. "Anything sooner and it goes back to ten. The town gets out of control once it finds out and it's on you. The money goes away. All of it."

Rick assumed the money was off the table if the town blew up either way, so he didn't feel like he was giving anything up. He knew he couldn't tell anyone, not even Bertie. If she knew then she'd call off the festival and march right up the hill herself. No, he'd have to keep this secret. What difference would two days make? "Agreed," he said, holding out his hand.

Keefer shook it, and when he did, he pressed the stack of cash into Rick's hand. When Rick pulled his hand away, there was ten thousand dollars in it.

"Down payment," Keefer said. "Do with it what you want."

Rick weighed the money in his hand. "Really?"

"Sure," Keefer said, his tone saying he'd known all along Rick could be paid off. "It's all yours."

Rick bent the paperclip back slightly on both the front and the back of the wad of bills. Then, with a quick movement that made Keefer flinch, he chucked the money at the fence. When the paper clip hit, the money exploded into a ball of spark and flame, sending tiny fragments of paper money into the air like confetti.

"Oorah, asshole," Rick said. He turned and walked back to his Blazer, a smile spreading across his face. He might have to do business with the man, but that didn't mean he had to like it.
In George RR Martin fashion (yeah, I know he's not the only one - but he's the one you kids are most familiar with), there was little reluctance to kill off major characters throughout the story. It felt like no one was safe, which is both good and bad - I suppose it depends on how much "control" you need to fell like you have in the story. Or something. What do I know? I'm just a hack talking about a book I enjoyed.
Don't be fooled into thinking this is an extended anti-American diatribe. This dark future is just a logical progression of the events taking place today. If they're not careful, today's politicians could easily take us right to this dark future. Other than some of the tech that doesn't currently exist, there's little in this story beyond imagining. And I read the eBook version (which is a medium I don't love) and actually finished this book before completing the physical book I'm currently reading (one of the new Star Wars novels).
I really wanted to talk about Greg Bear's War Dogs andKilling Titan because of the future/military connection and the aforementioned One Year After for its dystopian/military elements that also relate to this book (I read them months ago), but I've run out of steam. Next time. Maybe.

Art Attack!
Quite a while back, we discovered Pizza Studio in Poway and it quickly became our favorite pizza place. The price is fair, the quantity is perfect, and the selection of unlimited toppings is awesome. But I'm not going to talk about pizza now. I'm going to talk about something else I discovered in Pizza Studio - local artists displaying (and selling) their art on its walls. I've tried to buy one of these paintings, though its creator has been very non-responsive to my contact attempts, and I'm also planning to try to buy another of these if I ever get around to it.

The first of these paintings I noticed is titled Growing Together, by a local artist named Tina Staub. My first thought, when I saw the painting, was that it was very Tim Burton-esque (which is funny, since the contact email address for this painting was Vampire_Hottie2000). And then I looked more closely at the actual content of the painting and decided it was more Groot than Corpse Bride. If you don't find the Groot character to be anthropomorphically lovable, then pick your own animated tree character. It isn't really very Treebeard-ish and I can't think of any other anthropomorphic trees, so for me it's all Groot. But the the artist either really doesn't want to sell it or just really doesn't want to sell to me, because my emails have gone unanswered.



The other Pizza Studio painting I've really liked is, as are many of the paintings, ocean-themed. It's a painting of a swimming turtle called Into The Deep by a local artist named Deborah Collins. I've always had an affinity for turtles. Maybe it was the long, skinny neck (before obesity turned it into a series of chins) and my introvert-ish tendencies. Or maybe I'm just weird. I haven't tried contacting the artist yet, so I'll probably be too late to get this one.




I came across another, even more amazing, piece of art at the Sparks Gallery: Unconditional by AmandaLynn. The Sparks Gallery is an art gallery in downtown San Diego where my multi-talented daughter, Emeli, was performing for a fundraiser/benefit a few months ago. I've been meaning to mention Unconditional forever, but...well, it fell into the abyss with the rest of the stuff I've never bothered to mention. The Sparks Gallery had a whole bunch of art that was interesting, but very little that I found amazing. Unconditional was clearly amazing - a pencil drawing on a big piece of wood. You could clearly see every pencil line if you stood close enough to the piece, but the whole blended beautifully. It's just an amazing thing. Weird, but amazing. If it hadn't been so pricey, it would be hanging in my living room. Pizza studio's artists are about the limit of my art purchasing power. And I haven't even managed to get one of those yet.
And while on the subject of Emeli and art, here are a few things my amazingly talented Emeli has created. She's so much more talented than me. And just about everyone else, too. I actually created a web site for her to showcase her talents, but it's not quite ready yet. It will be sooner or later.

One last art-related thing. A few months ago, Disney (or possibly someone else, I forget - the list I saw was put out by Disney) put out a bunch of more life-like images of the biggest Disney princesses. The Ariel one was super sweet, so I grabbed it. I didn't hold on to any of the others. I think they were all slightly animated.
And I don't want to sound like a big ol' bragger, but I have a complete set of The Little Mermaid trading cards from the 90s. Yeah, I'm quite a catch. I know.
Speaking of alternate versions of Arial, this version of Arial has been showing up on a lot of t-shirts and posters lately (well, lately when I had origially planned to mention it) and Joe Linsner's Ariel from many years ago has long been a favorite.



I was having fun doodling again for a little while, but have lost interest again. I'm still working on one doodle of a train (when I say "working", I mean I'm avoiding working on it at all), but it's far from being worth showing here. here's just one last thing I'm going to blather on about before I slither back to the shadows again...a movie that I liked well enough that I felt like I had to recommend it to other people right after seeing it.


Gifted


I heard about this movie, though I didn't realize this was the movie I was hearing about, on the Ana Faris podcast (Ana Faris is unqualified) many, many moons ago. Chris Evans and Jenny Slate were the guests and Chris Evans was super cool. I became an even bigger fan of ol' Captain America after hearing him speak freely on the podcast.




Mckenna Grace, the little girl in this film, steals the show. She's only ten (her character is seven), but already has some serious acting chops. If you're not convinced she feels everything her character feels in this movie...well, maybe you don't have kids. I don't know.
And Chris Evans is basically the same cool dude he is in everything. I suspect he's just playing himself (as most actors seem to do most of the time). He just seems like the kind of guy that would be easy to hang out with - just a regular dude.
As for the movie itself, it's not exactly relatable (there aren't a lot of genius-level elementary kids out there living with their uncles because their math-genius mothers killed themselves), but who says everything has to be relatable to your own life? The characters draw you in and make you feel what they're feeling and even a heartless old troll like me got teary a few times.
McKenna and Chris did a bunch of publicity stuff together that you can find on YouTube that's well worth watching, too. Very cute.




Also...I just saw that David Sedaris has a new book coming out in May. And I realized that I totally forgot to mention his stuff when talking about the comedic autobiographies I've read and enjoyed. My bad. He's a funny guy, too. It's been a few years since I read any of his stuff, but it was really funny as I recall. Maybe I'll pick up Theft by Finding: Diaries (1977-2002) when I see it.



Got something to say? Say it. (no responses).


Slum Fransisco or Adventures with OSI Pi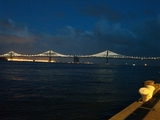 I attended a User's Conference in San Francisco for a week in March (OSISoft, the makers of that glorious semi-functional piece of...software, Pi). It was held in the Union Square and Parc55 Hilton hotels. In years past, it has been held in equally nice or nicer hotels around downtown San Francisco and I haven't generally had time (or made time) to look around the local environs, but I did take a little time this year. And man, San Fransisco is a dump. I'm not referring to the Hilton hotels - they were awesome. There are also a lot of very nice shops, some very impressive older architecture, and was a super-nice mall right across the street from the hotel...but to get to any of it you had to wade through a tide of human detritus begging you for change, asking for drugs, and sleeping in doorways. And for every nice building in San Francisco, there were two decrepit, barely standing buildings. Yeah, I know all cities are contending with armies of hobos clogging the arteries of downtown, but this seemed egregious. But then again, I don't often (or ever) wander around downtown anywhere, so maybe it's this bad everywhere.
The keynote speaker for the OSI conference was Billy Beane, the GM of the Oakland Athletics and a San Diego native from just down the road. I'd really hoped to be able to share his keynote here, but I can't find a recording of it anywhere. It was both educational and entertaining. Good, solid edutainment. He talked about the events behind Moneyball, the book/movie based on his statistical approach to making the small-market Oakland A's baseball franchise into contenders with the much deeper pockets of the other MLB teams. I had never read the book and hadn't seen the 2011 movie, but I made an effort to find the DVD when I returned home and just watched it this week (it was easy to find on the discount rack at Target). It was a really good movie. And Chris Pratt was in it, which was a total surprise. That guy is everywhere now.
But returning to the keynote, Billy's best story from the keynote was probably the one about how he came to understand just how hard it must be for a celebrity (Brad Pitt was the specific celebrity he was talking about) not to become a complete nightmare when fame strikes because of the way people act around them. His evidence: his babysitter who had never been seen in anything but Birkenstocks and a t-shirt who showed up for work in a prom dress when she heard that Brad Pitt was going to be coming by for a barbecue that day. And his wife who never got up before the crack of noon who was up fixing her hair at five AM. Both denied that there was anything out of the ordinary when confronted. It was actually a lot more funny than the paraphrased version I've presented here.
Here are a few San Francisco-ish photos from my trip. Some are from the conference events, others are from my wanderings around the city. Enjoy.
There was one exceptionally memorable thing about this conference: I got my first Raspberry Pi. I participated in a lab for the OSIPI WebAPI product that utilized Raspberry Pi devices for each lab participant (each Raspberry Pi was connected to a CanaKit breadboard with a temperature gauge wired in) to show how the readings from these wireless devices could be aggregated in Pi and then each could be displayed on a web page using a Python script and a bunch of JavaScript. When the lab was complete, we each got to keep our CanaKit and Raspberry Pi. So I now have another fun toy at home that I have absolutely no time to play with. Still, it's pretty sweet. I've been thinking about different projects I could attempt with the device (maybe a WDTV Live replacement or a magic mirror if I replace one of my digital monitors).


Speaking of funny stuff, I've been reading a lot of comedic autobiographies lately - all of Adam Carolla's books (In Fifty Years We'll All Be Chicks, Not Taco Bell Material, President Me, and Daddy Stop Talking is currently being read), Ally Brosh's awesomely illustrated Hyperbole and a Half, and Bruce Campbell's Make Love the Bruce Campbell Way (that one was read a few years ago, but If Chins Could Kill is currently on my to-be-read shelf now and the new Bruce Campbell book is on my Amazon wishlist). To this list I now add Joel McHale's Thanks for the Money: How to Use My Life Story to Become the Best Joel McHale You Can Be. I love a book that makes me laugh out loud while I'm reading it. And all the above fit that bill. Joel McHale's book has quite a few laugh-out-loud moments (several of which I will be sharing out of context below, which may make them slightly less LOL-able).

Thanks for the Money: How to Use My Life Story to Become the Best Joel McHale You Can Be.



Thanks for the Money is full of facts about Joel McHale's road to the top of the C-list acting heap. And is also full of a lot of stuff that's not quite as factual (or at least not as straightforwardly factual), but will make you laugh. And there are also a few things in the book that aren't quite as funny, but they might make you chuckle...at the very least, they'll make you roll you eyes. And there are photos and silly charts galore.


Here is a funny chart from the book: "How to Insult People" and an amusingly captioned photo of Joel and his family meeting the former president and his wife.
Here's an excerpt about one of Joel's experiences working with Chevy Chase on Community. It begins with a weird conversation Joel was having with Chevy.
In one Community episode, Chevy's character is teaching my character how to box. Chevy is wearing training mitts, and in the scene, I'm sparring and lightly tapping them. They call "cut" after the first take, and Chevy immediately starts chiding me:

"You're not hitting me hard enough! You gotta hit me!"

I replied, as calmly as I could, "That's right, Chevy. I'm not hitting you very hard. Because I'm pretending to punch your hands, just like I'm also pretending to be a lawyer. And we're not actually attending a community college - this in a fake building that someone built inside of a soundstage on the Paramount lot. Look! This room has no ceiling! Because it's all pretend." Then Chevy called me a pussy, and again demanded, "You gotta hit me!" I replied, "Fine - I'll give you a left jab into your mitt." On the next take, I did just that, and dislocated Chevy's shoulder. Once again, everyone yelled at me: "Joel, what are you DOING?!"

But it wasn't just mild physical harassment. Chevy would often blurt out crazy things. One time, I referred to a close friend of mine as "the funniest guy in the world." Chevy immediately responded, "I'M the funniest guy in the world. Time Magazine said so."

To which I replied, "Yes, Chevy. But that article was published in 1975. Now it's 2011, we've been here for hours listening to you complain about your dialogue, and I just want to get home and see my kids."

Oh. here's another fun one. In an effort, I think, to jokingly flatter an actress on the show. Chevy actually said, "I want to kill you and then rape you." Which, in his defense, is the most thoughtful order in which to do those things - but still. She replied, "Well, at least I'll be dead." I get it - Chevy was trying to make a purposefully tacky, over-the-top joke. But something was just off. Everything he said had a weird edge of menace.

Chevy wouldn't dance on camera because he didn't want to "look gay." This may help explain the few musical scenes in Three Amigos...
Wow. Clark W Griswold, how little we really knew you.


Here's another one about Joel's struggles in school.
It's not that I find reading to be boring, or dull, or whatever a third synonym for "boring" might be2. I actually suffer from a form of learning disability. In second grade, professionals evaluated me, and they told me I was a "slow starter" - which is a really positive, encouraging thing to tell a kid who has trouble reading. I would find out, many years later, that I am actually dyslexic.

I first noticed a difficulty with reading comprehension in grade school. While the other kids were gathered around the jungle gym, sipping their juice boxes and comparing notes on the inherent Freudian symbolism of Hop on Pop, I myself just stared, dumb-founded by how dumb I found myself.

When I looked at words on a page, they just did not make sense. Like right now, as I gaze at this page - as it has been either shoved into my hands by my sweaty ghostwriters or put in front of me in a voice-over booth - I see a series of jumbled letters. Imagine trying to read Shakespeare while drunk, or road signs while drunk - that's the best way that I, and the Scotch I'm currently drinking, can describe this experience.

My mom took notice of my learning problem when I started getting horrible grades in English classes. My father didn't because he is also dyslexic. "Great job on your chemistry homework," he'd say. handing back the Thai takeout menu I had just given him. And then we'd both laugh, because neither of us knew what was on the paper I'd handed him.

But my mom - who was a professional newspaper editor for the Mercer Island Reporter3 - was initially tickled by my sloppy sentence structure. Then she grew concerned, then terrified, and finally looped all the may back to stunned amusement. As someone who fixed others' grammar for a living, she found my struggle with...

2 I even gave up halfway through reading the thesaurus entry on "boring."
3 Sample headline: "More White People Converge upon This Tiny, Wealthy Community. Rain Tomorrow."
This last excerpt is less funny, but I found the footnotes to be exceptionally funny. Thanks for the Money utilizes footnotes for comedic effect throughout (something Terry Pratchett was very well-known for doing...until he pretty much stopped in his later books).
V. THE UNWASHED MASSES

If you have made it through the other categories of people and thought - as many celebrities often do - that all of them can suck it, then you could certainly give up. You could go to the head of the Celebrity Police, toss your piece and shield on the desk, and growl, "I'm done, Commissioner Gordon-Levitt. I'm taking my justice...to the streets."

But then you'd be forgetting about the most important, and also the most anonymous and relatively powerless group of all - the audience. "Hey, wait a minute! That's me! You're talking about me!" you might be shouting into your book. First of all, settle down. And secondly, yes, I realize it might be insulting to lump you all together into one big, undulating mass of yowling, farting humanity. Many of you are not indiscriminately loud and gassy blobs. In fact, I believe most of you to be intelligent, self-assured, and sexy consumers. I think of you - the people who have watched my TV shows, bought sidewalk pirated DVDs of my movies, and attended my stand-up comedy performances - as the customer. And the customer is always right."19

So even if, in your celebrity life, you fantasize about throwing it all away so you can open that combination yoga studio/plus-size consignment shop, you must keep the audience ever in your mind. You are a painter of light, a weaver of dreams...and what would the fans do without you? Probably fantasize about having sex with some other celebrity - and you can't allow that. After a while, they will run out of famous fantasy sex objects20 and then might decide to put some work into their own lives, interests, and literal sex objects. And that is money being taken directly out of your pocket. Don't give up - you owe it to the frustrated, easily distracted21 masses!22

The previous pages were a detailed, needlessly Roman numeralized means of saying that, basically, people are gonna want stuff...


19 Unless they give this book a negative Amazon review for being "too smug."
20 Especially if they get all the way down to the various Kevins (Connolly, James, et al.).
21 Look - a bunny!

22 Again, not you guys. You're cool.




Okay, that's enough for this post. There's no shortage of content for further rambling, but I don't want to waste too much of Dan's (and possibly Steve's) precious time. There will undoubtedly be more incoherent ranting in the near future!

Maybe.





Got something to say? Say it. (no responses).



I was looking through the list-of-things-I-had-planned-to-mention-here directory on my computer this week (photos, videos, bookmarks, etc) and am now thoroughly depressed. There's stuff going back years that I've neglected and I'm sure I will never get around to blathering on about any of it. But, that being said, I'm going to at least make an effort to mention a few of the things I found (and a few more recent things). I may unleash a barrage of drivel over the next few days as I try to catch up on my ranting. So to start us off, how about Neil Gaiman...

Neil Gaiman-ish stuff


I bought myself a birthday present this year - tickets to see Neil Gaiman speak on March 29 at the San Diego Civic Theater. This was the kind of thing that used to be much more personal (and free) in the old days before Neil became a rock star. In the olden days, Neil would do a book tour of signings at books stores and readings/question-answerings when he had a new book. Now, I guess we have to pay to hear him read from his books and answer questions (sent in advance of the tour) and not get books signed afterward. Admittedly, it was tough for someone as cheap as me to spend so much dough on tickets for a theater downtown (where I know I'd be paying for parking, too) to see Neil again. But I did it anyway.
All complaining aside, it was a nice night with Neil and 500 strangers. Neil read the entire Freya's Unusual Wedding story from Norse Mythology, read The October Tale from A Calendar of Tales and The Day the Saucers Came ( I think it was in Trigger Warning), told some fun stories about his childhood, Amanda Palmer, his new his family, and answered a bunch of questions submitted online (which led to many of the the aforementioned stories). He spoke briefly about Terry Pratchett and answered a question about what he misses most about Sir Terry (which was not having Terry there to share ideas with whenever he feels the urge). He also talked briefly about the upcoming American Gods TV series. He didn't mention the new American Gods comic adaptation, though he did briefly mention Sandman a couple of times.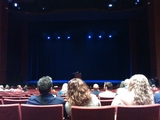 The crowd was a little obnoxious at times (much less reserved than the book store events) and didn't quite fill the entire theater, but it was a pretty good-sized crowd. The entire event ran around an hour and a half. I brought a couple of books from the living room bookcase and a comic, hoping there would be a signing, but unless it happened after the event and away from the main crowds, there was no signing.



Speaking of Terry Pratchett and Neil Gaiman, here's a video clip of Neil speaking last April (2016) at a tribute to our badly missed Terry.
And here's Neil reading Green Eggs and Ham. Just because.
Norse Mythology

I didn't realize Neil's Norse Mythology had been sitting on the bestseller list for so long until Neil mentioned it that night. It seems strange that this - of all of his books - should achieve this milestone, because it's really not Neil's best work. I'm not saying that I didn't enjoy it, it just wasn't as good as any of his other stories. It reads as fiction written for a younger audience due to the simplicity of language used (probably an attempt to leave the original Norse myths mostly unchanged and unembellished). It's a very quick read, both length-wise and comprehensible-wise. All that said, it was an enjoyable read, if not really mentally stimulating.





Now back to the comic adaptation of American Gods mentioned briefly above. I picked up the first issue a couple of weeks after it came out and then waited a couple more weeks to read it (Neil didn't mention one word about this comic in his speaking engagement, though he did briefly mention Sandman). Not because the material wasn't intriguing (American Gods is a really good book), but because the comic book medium isn't nearly as appealing to me as it once was. That being said, I did finally read it and found it pretty well done. Not nearly as solid and engaging as the novel, but good. The upcoming TV series adaptation sounds like it may be even less true to the source (despite Neil's involvement - I suspect he's intentionally following in Douglas Adam's footsteps, creating a slightly different version of his stories in each medium). But back to the comic book - the art is good, but not amazing. It's not a fully-painted book or water-colored or mind-bendingly weird illustrations. It's sequential art that tells the story as it is. And it's definitely not pulling any punches with the adult content. There are no "tastefully-placed" objects obscuring anything. When the story calls for adult content, adult content there shall be.
The second issue came out this week. I'll probably pick it up tomorrow.

Watching too much TV


And now speaking of TV adaptations, I did finally watch the first few episodes of The Magicians season two. I love the source material and highly recommend reading the novels, but the TV adaptation is just wrong on so many levels that I don't really enjoy it. I don't mean "wrong" as in "bad," I just mean it doesn't hold up against the source material. If you haven't read the books, the TV show probably holds up just fine. My guess is that the changes were made to distance itself even further from the Harry Potter stories and Narnia. Or maybe no writer wants the same exact same story regurgitated in different mediums and they do this intentionally. Who knows? But how about niffin Alice? Wowza. All attempts to nerd her up are gone and the super-hotness within is shining brightly.



While on the topic of TV series adaptations that couldn't be further from the source material, let's talk about Dirk Gently's Detective Agency. There was an adaptation on BBC a few years ago that was pretty close to the source material (Dirk, the primary character, was much closer to the character in the book anyway), but it didn't seem to get much traction. After watching the BBC's previous attempt to adapt Dirk Gently, I re-read the two books (paperbacks purchased long before I could afford to buy anything in hardcover) just to confirm my "something is not quite right" feelings. The current version of Dirk Gently is strangely set in America and full of American characters. It shares nothing with the source material other than the holistic approach to crime solving (if that's what they're even doing on the show) and the main character's name. Everything else is so weird and so unlike anything in the very limited source material (two short books and possibly part of a story in The Salmon of Doubt) that it's a whole new story. But Dan told me he really likes the series and he hasn't read the books, so I guess it's just another disappointment to those of us who are fans of the source material. Most curious of all the characters to me is Bart, who is horrific and repugnant on the show, but not so bad in real life.
More to come tomorrow...ish.



** Oh, and I added Twoflower's luggage to the page just for Dan who has an aversion to annoying things floating around the screen.



Got something to say? Say it. (2 responses).



This page has been viewed





times since I started tracking hits.
(This is a rudimentary non-unique IP hit counter, so don't be too impressed)