Friday January 7, 2005
Christmas Vacation

We packed up the family and headed for Idaho and Utah for Christmas again this year. It was a long monotonous drive, but at least it only took fourteen to fifteen hours each way. I so look forward to this trip every year. And again in the summer...sorry, I'll stop whining now. My parents neighbors, Tim and Beth Ann Passey and the their kids, Shay Lynn and Tanner, are always hanging out with my parents when they're in Idaho. My sister jokes that they're trying to horn in on the "inheritance." I suspect that they're just bored out of their minds from living in Idaho. Their kids and mine have great fun together when we're there.
Portable DVD players have to be one of the greatest innovations for long trips, ever. I can't imagine how my parents did it when I was a kid. All I have to do is stick a movie in the player and the kids are content for at least an hour, leaving me the serenity to contemplate the lovely desert scenery as it whips past. Speaking of Desert scenery, the snow pack was depressingly low while we were in Idaho. the kids were disappointed that they couldn't make snow angels or snowmen in the crusty, frozen snow-like stuff that was on the ground. Ironically, it started to snow like crazy right after we left.
It was a good year for Christmas loot. I got loads of Star Wars and Lord of the Rings stuff, some awesome Bose headphones and the coolest vacuum ever (Dyson). One of my present was the Battle for Middle Earth PC game. I haven't made it very far yet, but so far it a lot of fun. It's great to hear the trilogy actors voices, see the movie clips and have the actor's faces to associate with the characters from the story. And the game is THX certified. How cool is that?
I saw Elf about 10 times over the holidays (one of the kids favorites on the drive). I also saw the "trailer" for the Hitchhiker's Guide movie (coming May 2005). Unfortunately, it's nothing more than a teaser trailer. Nothing about the movie is divulged. back to Elf, Zooey Deschanel has an amazingly cute voice. Her rendition of Baby, It's Cold Outside is awesome. I've probably listened to it about a gazillion times.
Badbartopia Update

I did find the time to do a little work on the site over the Christmas vacation. I have added a Lighter Side of Badbartopia that collects most, if not all, of the funny stuff from my rantings. So far, this consists of The Star Wars Kid, Opus, a few jokes and a few funny videos and flash animations. I have also revised the menu navigation (and plan to consolidate the menus even further in the near future).
There are a few new sketches on the drawings screens (and a few of the older drawings have been rescanned or removed, at the request of the warden).
I was going to throw a couple of Philip K Dick book reviews in here, but I'm still on the third of four stories in the book I'm reading, so I'm going to wait until next time for my reviews of The Three Stigmata of Palmer Eldritch, Do Androids Dream of Electric Sheep and Ubik.
Opus
I missed a couple of weeks of Opus while I was on Vacation (the Utah newspaper I had acces to did not carry Opus), so I only have the most recent installment. I seem to have missed one the Pickles strips, which has me bummed. I may have to go pick up a copy of that Sunday's newspaper from the distribution office.
This "episode" of Opus has our favorite flabby penguin overhearing a couple of hoochies talking about "what's hot" and, of course, misinterpreting their words so that he assumes they are referring to him. This would have been a good tie-in to my Weblog tirade of a couple months back...
Movies

I had to watch Blade Runner (director's cut) after reading its inspiration, Do Androids Dream of Electric Sheep. The most surprising thing about this is that I had not seen it before now, being the sci-fi junkie that I am. It's probably a good thing that I had not seen it, though. What a jumbled mess. Granted, the book is a convoluted mix of overlapping plots. The movie, while choosing to ignore most of the most prevalent themes from the book, is hopelessly unclear. Nothing is explained. No groundwork is laid for those unfamiliar with Philip K Dick's story.
I'm dying to point out the myriad deviations from the novel, but this movie is so old (1982) that I'm sure it has been done far too many times before. Well, maybe I'll just make a few comments...
I thought the overwhelming presence of east Asian culture was a bit odd. If there was any mention of that in the book, I missed it. And where were Mercerism, Buster Friendly, the depressed wife and the whole coveting living animals theme? Speaking of the live animal theme, how'd you like the flock of pigeons in the chickenhead's attic? They must have been worth a fortune! Coke and Atari both got several "product placements" in the movie. I think the Atari 2600 may have been the operating system for the hover-vehicles.
One thing I have to point out, though. Rachel and Pris were supposed to be identical. In the book, they were the same line of android and identical in appearance. So why cast two such dissimilar actresses when Darryl Hannah could have easily played both. Truthfully, Sean Young probably fit the physical description of the character from the book better. And what character was Edward James Olmos playing? That was a bit weird. The music was strangely reminiscent of the soundtrack for A Clockwork Orange. As was much of the imagery. I could go on forever about the mess this movie made of the novel, but I will stop here.

I picked up the King Arthur director's cut while we were in Utah. I again enjoyed the film (and probably picked up a couple of things that I had missed the first time), but I was disappointed by the "director's cut" scenes that were added back into the film. Heads being lopped off, limbs severed...nothing that added anything to the film. We already knew that the battle were violent, bloody and graphic. Only once have I ever seen a "director's cut" that I was a real improvement over the original. The excised scenes from the original Highlander which were added back in to the "director's cut" actually helped explain things that were never very clear.
I was sure that Keira Knightly was going to have some steamy scenes in the director's cut, but it was, sadly, all about the violence. There were no added scenes that I noticed. Just extended battles.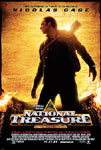 Mational Treasure was one of the few movies that has come out this winter that I actually wanted to go see, even though the reviews I read were generally unfavorable. If you haven't seen it,you should. It was a great cerebral thrill ride. I don't know how they did it, but they beat The Davinci Code to the punch. Now, even though it's the better researched story, when the movie version of The Davinci Code makes it to theaters, it's going to look like a National Treasure knockoff.And if they really do cast Tom Hanks as Robert Langdon, I have my doubts. He just doesn't seem to fit my mental impression of the character.
National Treasure not only had a clever believable story, it was well casted. Nicolas Cage's goofy sidekick was good for quite a few laughs. He really reminded me of a hobbit for some reason. He would have made a good Merry or Pippin. Nicolas Cage's love interest was attractive enough. She reminded me of the girl who plays Marcia Brady in the Brady Bunch movies. Her character was supposed to be of German descent, so she occasionally had a German accent. But it seemed to come and go.
Feel free to tell me what you think about all of this.