Monday March 21, 2005
Update 3.28.2005 - added the book and movie reviews to this page.
Revenge of the Jetta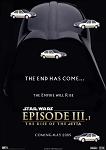 The Jetta has had yet another mechanical mishap.
I was on my way to the mall with the family for a Saturday outing when the engine temperature warning light flashed on as I was driving down the freeway. I looked at the dash and saw that the temperature gauge was pegged all the way to the red, but I was unable to pull off of the road due to cement barriers blocking the shoulder (the freeway seems to be in a near endless state of construction).
I stopped as soon as I had the opportunity and opened the hood to exert my manly knowledge of all things automotive on the engine. I checked the oil: deemed it adequate with my superior eye for engine lubricants, and then checked the engine coolant: dangerously low, in my mechanically inept opinion. So I paid $20 for a ginormous bottle of anti-freeze, which I added liberally to the coolant tank.
After allowing the engine to cool for about ten or fifteen minutes, I loaded the kids back into the car, and pulled out of the gas station to head home. The engine temperature was super low and didn't seem to be rising, so I decided that my skills had saved the day and all would not be lost. Assured by my mechanical prowess, I headed across the street to the mall, but before I made it all the way into the parking lot, the dreaded light again glared balefully at me from the dashboard. I quickly pulled into the next available parking space so I could again use my manly automotive skills on the engine. The wife and kids went into the mall as I popped the hood and looked around.
I was shocked to see that the coolant level was now well over the "max" line in the coolant storage tank. I was sure that I hadn't filled it that full before we set out on our latest quarter mile trek and then I realized that the heat of the engine was making it expand, so I had somehow, despite my unmatched knowledge of engines and auto-mechanics, over-filled the coolant tank. I set off to Sears to find some sort of tool with which to remove the excess coolant and came upon a turkey-baster looking thing (used for filling batteries) that looked adequate. I also saw the exact same anti-freeze that I had just paid $20 for. It cost $7. My day was not shaping up to be one of the best ever.
I used the sucky-thing to remove quite a bit of the anti-freeze and, sure everything would be peachy this time around thanks to my heroic actions, started up the engine again. I let it idle...but within five minutes the malevolent light came on as the temperature needle again began its ascent.
I found the family, we loaded up, and nearly an hour later we made it a few miles to the local Firestone (with many cool-off stops along the way). Several days later, I was informed that they couldn't figure out what was causing the car to overheat, and they recommended that I take it to the dealer. I called my insurance company (under my road-side assistance plan) and was informed that my towing coverage was for 10 miles or the closest authorized repair facility. I used MapQuest to determine the approximate distance the car would be towed and discovered that the tow job would probably cost me about $20.
Okay, I'm getting bored...so this is what happened: the car was towed to the dealer, the dealer determined it was a faulty water pump, I faxed proof of regular maintenance to validate my warranty and the car was fixed under the 100k mile power-train warranty. There was no charge to me. All is well again. The Jetta's revenge will have to await another day. Oh, and Ron Gilmartin was the guy who helped me out again. If this keeps up, I may have to completely rethink my opinion of taking the car to the dealer for service (at least this dealer).
newEgg
Way back in the late eighties and early nineties, there was a little computer store caled Egghead. I used to buy games there in the nascent days of the PC...long before I had ever cracked a case open and before I had completely abandoned my powerhouse of a home computer, the Atari 800XL.
Egghead closed all their retail store-fronts several years ago and went the fully-online route. They weren't particularly successful and, although Amazon now owns the name, declared bankruptcy after suffering the embarrassment of having their customer database hacked. When looking around the net for a new power supply, I discovered newegg though the recommendation of a friend. He informed me that newegg was Egghead reincarnate.
I have done a little bit of research on the web and everything I have read would lead me to believe that Egghead is actually dead and newegg is, other than borrowing from the recognition of the Egghead name, an entirely different entity. Regardless of the link to Egghead, one thing I can say about newegg: their prices are great. And their shipping...
Okay, two things I can say about newegg: their prices are great and their shipping is extremely fast and reasonable. And they sell quality...
Okay, Amongst the many things I can say about newegg are these: They have great prices, very fast and affordable shipping and they sell quality merchandise.

My newegg experience:
I ordered a 400 watt power supply to replace the 250 watt supply that had been overheating in my computer. It arrived within three days of placing the order. Three days--unbelievable! I eagerly installed the power supply, hooked up all the "stuff" inside and turned it on. There power supply has two fans, each of which has a blue led around it, and a shiny silver casing. The blue light, in my generic case, is almost wasted, but it does shine brightly from the back and a little through the air holes on the side of the case. It only cost $34 (with shipping costs), runs cool, is quiet and I have had no problems at all.
Badbartopia stuff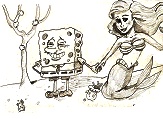 I have added a few new sketches to the drawings tab: Ariel and Sponge Bob, Mickey Mouse, Jasmine and another portrait (Michael). Sorry Steve, I haven't had a chance to doodle any centaurs, exploding robots, centaurs battling robots or even ligers, yet. If only there was more time in my days...
I have actually updated the "family news" page in the princess gallery. There are some fun things about the girls there. And it only took me about a year to get around to doing it.
I have also added a link to a page (on the bottom of this page) to allow you, the reader, to provide me with feedback. I expect to get at least two or three responses a year if all my loyal readers will respond.
I was going to split the movie and book review pages off into their own pages, but I have lost interest. Instead, I will probably just simplify my original method of review. Or not. We'll see...
Movie/Book Review A Scanner Darkly

This novel, as with all the other Philip K Dick novels I have recently read, was set in the author's future, but the not-so-distant past (sometime in the 90s, I assume) for the rest of us, in Orange County, California. This vision of the future wasn't filled with psychics, space travel, robots or much of anything very different from what was around in the 70s. Surveillance equipment and technological camouflage was more advanced, but little else. The 70's hippie/drug culture (which probably still exists today, just not in my sphere of association) thankfully is not, as far as I know, as prevalent as Dick predicted.
If you want the novel to be a complete surprise, don't read the rest of this paragraph. Here's the book in a nutshell: Undercover policeman, Fred, uses too much of the drug to fit in with the crowd he is blending in with (to try and nail the major supplier in the area).Gradually, the reader discovers that he is losing the ability to distinguish between his "stoner" personality, Bob Arctor, and his policeman identity. Eventually, his world comes crashing down and he is sent to rehab, where he makes an unsettling discovery.
A movie is in production (Starring Keanu Reeves as Bob/Fred) that is due in theaters in 2006. Winona Ryder plays the drug dealing object of Bob/Fred's infatuation, Donna. I find the casting of both actors to be a little bit off, but you never know how well they will play the parts until you've seen the final cut. The script will probably butcher the story so badly that it won't matter.
The Broker

I am unable to think of a single John Grisham book that I have not enjoyed reading. His style of writing flows so well and is so engaging that I find it difficult to put his books down until I have torn through them (usually in a day or two). This novel is no exception.
Once again, if you want the novel to be a complete surprise, don't read the rest of this paragraph. The novel's main character is a power broker/lawyer who is imprisoned and then pardoned by a lame duck president, who receives large sums of cash for the transaction. The "broker" is sent to Europe in kind of a witness protection program (although this isn't really the reason). He is hidden in Italy and taught italian. Along the way, he learns to love the culture and the people--who are so different from everything he has known before.
One of my first impressions while reading this book was that John Grisham had jumped on the Dan Brown bandwagon (the CIA, government intrigue, the immersion of an American into European culture. etc) and was abandoning his down-home types of stories. And now that I have finished the novel and had time to reflect on what I've read...I'm not sure if Dn Brown was the motivation for the latest novel. But I'm still on the fence. There is an end note in which John Grisham's talks about his European vacation, during which he fell in love with the people and the culture of the part of Italy that much of the story takes place in. So it probably wasn't Dan Brown's fiction that prompted him, but you never really know...
Finding Neverland

I went to this movie with high hopes, but low expectations. I generally find that movies that have received an abundance of critical acclaim pretty much suck. But this one, surprisingly, didn't. Johnny Depp's Scottish accent (though it sounded more irish than scottish to me) was passable and he played the part brilliantly.
The story was a real tearjerker (especially as it neared its conclusion) and one of the scenes even managed to touch a cantankerous, emotionally retarded old guy like me (the peter pan performance in the home of the boys--the 'tinker bell dying' scene). Other than that, I don't feel like spoiling the movie for anyone who hasn't seen it (even though it's already out on video--man, what that a quick turnaround?).
Hitch

Will Smith plays the suave cool guy with ease as he has been doing for years. It's kind of ironic...when you take a good look at him, you relaize what a funny looking guy he is. He has big ears and Webster's head on a tall, adult's body. But his voice is pure Barry White. Smooth and self-assured.
This movie has it's share of amusing, laugh-out-loud, moments and will tug at a woman's heart strings with ease. For a guy, it's entertaining enough, Eva Mendes is gorgeous and the fact that Will Smith is such a goofy, normal guy helps us along.
I also saw, but don't really feel it's worth more than brief mention, The Pacifier. It wasn't horrible, but it didn't really have any redeeming qualities. Vin Diesel is such a flat, expressionless. monotonal actor. I am mystified by his success.
I watched The Chronicles of Riddick and Troy on DVD. Neither impressed me at all. The Chronicles or Riddick's biggest problem was that it couldn't decided if it was a Sci-Fi or Fantasy movie (medieval armor on futuristic galactic stormtroppers wielding archaic weapons was just a little too bizarre). Troy reminded me a lot of Gladiator (another movie I have never liked). The history lesson was interesting (it has been too long since I have read the Iliad to efectively examine how badly this movie treated Homer's version of the events), but little else about the movie interested me.
Opus

I discovered, when going though some old papers, that I had saved quite a few of the Opus strips from 2004. These, and the four most recent strips: February 13, February 27, March 6 and March 13, have been added to the Lighter Side.
I don't really feel like summarizing the contents of the strips today, so read them if you want to. If not...don't.
Share your opinion about any of the above or anything else.