Saturday April 9, 2005
Somebody, stop the insanity!
I work in corporate America. For those of you who are fortunate enough to have avoided this experience, let me assure you that much, if not all, of the wackiness and unbelievable stupidity portrayed in movies like Office Space and In Good Company or even the exaggerated office politics of Dilbert really do hold a grain of truth. Not all corporate management is equally inept, but my current employer has its moments.
My employer's Human Resources department recently felt compelled to send out a refresher memo concerning the company's dress code. This is a dress code that has been in effect for several years--but has not, until now, received any lip-service. To really explain why I even bother to mention this, read the following (taken directly from the corporate dress code guidelines):
Employees are expected to maintain the highest standards of personal cleanliness and present a neat, professional appearance at all times. Our customers' satisfaction represents the most important and challenging aspect of our business. Whether or not your job responsibilities place you in direct customer contact, you represent the company with your appearance as well as your actions. The properly attired individual helps to create a favorable image for the company, to the public and fellow employees

Although "professional business dress" is not required, management would appreciate all employees follow these guidelines:
• Clothing must be neat and serviceable. No torn or tattered clothing, dirty clothing, clothing with holes, excessive and splotchy faded or excessively baggy clothing will be permitted.
• No tank or tube tops, halter tops or belly shirts are permitted.
• No swimming/surfing, sweat suits, running pants, board shorts etc. permitted.
• No flip flops, slippers, sandals or beach shoes or any other type of foot ware which does not grip the rear of the foot. This is a safety issue.
• Shorts are permitted on Friday's only. Cargo and dress shorts are acceptable. Cutoffs, dolphin style or athletic shorts are not allowed.
• T-shirts may only be worn on Friday's and please be aware of what is printed on your shirt. T-shirts should not have offensive slogans or inappropriate messages/graphics.
• No sweat bands or studded wrist bands may be worn.

Please use good judgment when deciding your attire, and please contact Human Resources if you have any further questions.
Okay, let's dismantle this thing one piece at a time...
• My employer has no actual "customers." Other than sales staff or executives who meet with the corporate clients, the average employee has no exposure to these "customers"--so how their satisfaction could be affected by our attire is beyond me.
• What is serviceable clothing? Even the dictionary doesn't help explain that one.
• Do you really need to tell someone in an office environment not to wear a tank top, tube top, sweat pants, etc? If so, maybe HR should spend a little more time refining their interviewing process to weed these misfits out earlier and less time trying to explain proper attire to the mentally deficient.
• Sweat bands? Are you kidding me? Even the most mentally challenged malcontent would have to realize that was unacceptable attire. That one kills me.
The last time that HR felt the need to "remind" people about the dress code, it was in response to complaints from employees who worked with a overweight woman who felt that all women were entitled to dress like Britney Spears. Needless to say, far too much skin was exposed and this led to a mutiny.
One would think that complaints of this nature would be taken directly to the offending employee...but no, that would make too much sense. Instead, everyone was reminded of the importance of "appearing professional" while working, blah-blah-blah... If my memory serves me, this woman continued to offend the senses of her fellow employees even after the refresher. So much for the "blanket" theory on enforcing corporate policy.
Another example of the corporate-ineptness (and there are far too many to share here): my position was recently redefined as hourly (not exempt from overtime pay). At the end of last year, HR realized that many employees had been treated, for years, as "exempt from overtime pay" when there was no legal foundation for doing so. Using their normal tactics, the HR department instructed all employees to complete detailed records (something we already did for payroll purposes) of everything we did throughout the day for several weeks so they could determine if overtime exemption status was correctly assigned--all as subterfuge for correcting problems they had full knowledge of, but had neglected to address in a timely manner.
My reason for mentioning the above goes deeper than HR's lack of directness in an effort to avoid accountability: when my position was changed from salary to hourly (during raise/bonues time), I discovered that the raise my manager had assured me was coming had been slashed to less than 1/3 of what he had requested. The reason: I was now hourly, so I had a greater opportunity to make money via overtime pay. A comment about that: overtime is not paid unless previously approved by the management bureaucracy, so it is unlikely that I will ever receive overtime.
But even that is not the reason I bring all of this up...there are two other programmers who had been adjusted from salary to hourly years before my adjustment (I guess they expected to pay me more or make me a manager--who knows). They each also received substantially smaller (reduced by about a third) raises than expected. The reason given was the same that had been given to me. When it was explained that these two had not just become hourly, but had, in fact, been hourly for a few years, it feel on deaf ears. Unbelievable.
I could list other hard-to-believe examples of corporate bureaucracies in action, but I'm too depressed now.
Badbartopia stuff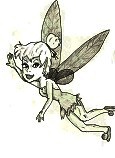 There are a couple of new sketches (Tinker bell and the yellow M&M), an update to the kids pictures (Keli's first grade school picture), and a few new opus strips: March 20, 2005, March 27, 2005 and April 3, 2005.
I haven't been reading much lately, but I am about halfway through The Years of Rice and Salt--a very interesting novel that provides some interesting insights into the Hindu and Islamic perspectives. I'm not exactly sure how I would describe the book, yet. So that's all I'll say for now.
Movie Reviews
Miss Congeniality 2

The first Miss Congeniality is one of my wife's favorites. It's funny enough and Sandra Bullock cleans up nicely, so I have never minded watching it with her. The second installment really isn't much different from the first, with the exception of Sandra Bullock's character not having to undergo the massive makeover. Michael Caine was noticeably absent and Benjamin Bratt's character, though mentioned, was unnecessary and also not present.
The movie in a nutshell: Sandra Bullock's character is devastated when Benjamin Bratt's character dumps her and her mood is not improved when she discovers that her celebrity from being in the beauty pageant (from the first movie) has made her too recognizable to do field work for the FBI. She is made the new face of the FBI to improve the FBI's staid image and given a bodyguard who is as boyish as her character from the first movie. Miss USA is kidnapped (her buddy from the first movie) along with William Shatner's character and held for ransom and Sandra Bullock defies all authority to rescue her despite the bumbling incompetence of the local FBI agents. They all live happily ever after.
The movies was okay and had some genuine funny moments, but I won't be rushing out to but it on DVD.
Collateral

I skipped this movie in the theater because it didn't sound all that interesting. How right I was. Tom Cruise is a charismatic guy and a passable actor, but the movie just didn't do it for me.
The requisite spoiler: Jamie Foxx's character is a cab driver with big dreams who picks up a fare who convinces him to buck the rules and be his personal driver for the night. The fare turns out to be a hit man and proceeds to kill the people on the list, one of whom ends up in the cab's trunk after falling onto its roof. The LAPD is hot on their trail and catches up to them by the fourth of six hits, but the hit man takes the main cop out and continues on his killing spree. The cab driver ends up defying the hitman and taking him out in the end. Roll credits.
It wasn't the worst movie I've ever seen, but it was lacking in many of the essential ingredients that make a really good movie.
Tell me to shut up or, if you're really smart, how right my opinions are. So far, one person (other than me) has had something to say.