Monday May 9, 2005
The Hitchhiker's Guide to the Galaxy
I waited 20 years for this film to finally make it to theaters and showed up on opening night to fork over my $9 for a ticket. It was slightly disappointing, as any long-awaited movie based on a novel is apt to be, but still satisfying. The Vogons, the effects and the scenery (especially Magrathea) were spectacular. The music was effective (I felt tears welling in my eyes when the original theme kicked in during the title sequence). The casting was hit and miss. Arthur Dent was cast perfectly. Martin Freeman was low key, British and perfectly mediocre--very Dent-like. Ford Prefect's casting seemed very odd before I saw the film, and after seeing him in action, I'm still not sure that Mos Def made a good Ford. The script attempted to explain his non-British-ness in the pre-Earth-being-destroyed pub dialogue, but it still seemed an odd choice. Sam Rockwell fit the part of Zaphod physically, but I had a hard time getting past the southern/Texas accent. I felt the snobbish Zaphod was scripted as too common; I can't imagine this conversation between Sam Rockwell's Zaphod and Arthur Dent:
"Listen, you semievolved simian," cut in Zaphod, "go climb a tree will you?"
Arthr Bristled.
"Go bang you heads together, four eyes," he advised Zaphod.
"No, no," the waiter said to Zaphod, "your monkey has got it right, sir."
Which brings up another oddity in the film: Zaphod's heads. I always imagined him having two heads, each on a different neck (how else could he "bang his heads together?"), not one head below the other. The third arm gag was pretty cool. Completely digital and infrequently in play, but smooth. I was disappointed when Ford failed to be comment on it ("the extra arm really suits you, Zaphod"). And that brings us to Zooey Deschanel as Trillian. She fit the part physically (without her Elf blonde hair). But her lack of a British accent (I'm surprised the script didn't try to mold her as an American immigrant to Britain) was...distracting. Her characer also wasn't given the same intellect as the Trillians from the previous incarnations of the Guide. Her character was written as "beautiful, but brilliant" in the novels. Zooey didn't convince me that she was brilliant, just beautiful. I think this reviewer sums her up best:
Two marvels here, by universal consensus.
One: design...[blah, blah, blah]...
Two: Zooey Deschanel as Arthur's wannabe girlfriend, a porcelain American keepsake like a sparkler crossed with a cherub, so innocently sexy.
Marvin was somewhat different than I had imagined, but didn't veer too far from his predecessors; and Willow was inside the suit--how cool is that? The other GPP contraptions were very disappointing, though (there wasn't even any mention of the Sirius Cybernetics Corporation). The doors only sighed, which wasn't nearly annoying enough. Eddie, the shipboard computer, was silent, unless called upon and didn't even sing. I could go one forever...Slartibartfast was too young, Vroomfundel and Majikthise (the mice) were completely wrong, the bit with Prosser was wrong (where was the digital watch?), the Vogon poetry scene and Vogon airlock were too-truncated, the bit with John Malkovich as the leader of an alien religion (I'm sure there is a reference to the religion, if not his character, in the books, but I can't find it), yada-yada-yada... Like I said, I could go on and on. One thing the film has inspired me to do: re-read the novels again. The same thing happened after I watched the first Lord of the Rings film. I may even try the old Infocom game again. I don't intend for my opinions to dissuade anyone from seeing this film. I actually enjoyed the movie. I really did. I'll probably see it again this week. I felt the same way when Tom Bombadil was cut from The Fellowship of the Ring (among the myriad other changes)...but I still treasure the Lord of the Rings movies. I rushed out to buy the extended edition of each (after seeing each multiple times in the theater) on the day each was released.
The Guide has appeared in so many forms--books, radio, a television series, records and soon to be a major motion picture--each time with a different story line that even its most acute followers have become baffled at times. --Douglas Adams
Pointing out the deficiencies of the film version of any book is unavoidable for the borderline psychotic fan of the books. This does not mean that the movie was bad. It was just different.
Badbartopia stuff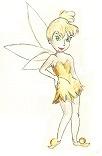 There are a few new sketches (my first with any color, Tinkerbell, a couple of SpongeBobs and an R2D2), but not much else has changed. I'm planning to update the Douglas Adams section with Movie information, but I haven't quite made it there yet. I also have a couple of funny video clips to upload and several Opus strips to scan and upload.
I haven't really been devoting much time to reading. I picked up the Douglas Adams biography by Nick Webb, but haven't started it yet (I'm still slogging my way through The Years of Rice and Salt; it's almost as bad as reading non-fiction, but I am learning a little, assuming the "facts" of the book are genuine, so it's all good).
Do you speak Moron?
I'm probably going to get in trouble for posting the following, but I couldn't have found a better example of the chronic idiocy rampant in corporate culture if I had tried to create a fictional one. I realize that I'm beginning to sound like a broken record, but the Project Managers of my company have outdone themselves this time.
I recently received a request from the Senior Program Manager (SPM; the most senior Project Manager who gets to boss all the other "Project Managers" around) for an insignificant change to a web page. It was a simple change, so there was no problem with completing the request. The problem lies not with the execution of the direction, but with the analysis behind the direction--the change had been done at least once already and, as I have explained many times to these guys already, will be done again when the current mail recipient departs the company. I have tried to explain that the mailbox to which the web site responses are made should be a "public" mailbox that multiple people have access to (to avoid unintentionally ignoring an e-mail), but this has fallen on deaf ears. Why would anyone so obtuse be placed in a position of authority?
But that wasn't the inspiration for tonight's tirade...
I received an e-mail request a week earlier from SPM for a system change. Actually, my manger forwarded the request to me so I could review it since the system in question is one I am responsible for maintaining. This was the intial e-mail:
From: SPM
Sent: Tuesday, April 26, 2005 4:12 PM
To: MGR X (My Manager)
Subject: Event Planning Enterprise Software

Hi MGR X,
As you probably know, COMPANY X is using the Event Calendar function on the Catering Software.
However, they have two small text changes that need to be made to the dialog box that is pictured below:
1) Please change the text from "In House" to "On-Site".
2) Please change the text from "On Site" to "Off-Site".
You don't need to make any other changes at this time.
These are small and quick changes. Please let me know when you can have this done.

Thanks.
SPM
This request is moronic in several regards:
1. The check boxes in question (see here, circled in red) serve completely different functions, as I have been forced to explain repeatedly to SPM in painfully slow meetings. Just "changing the text" would obviously not have the desired result.
2. The "on-site" check box (when unchecked) is the equivalent of an "off-site" check box. Is it really that hard to follow?
3. I can't just "change the text" for the check box and have it magically start working as a flag for "off-site" events.
4. Look at the cheap shots this guy feels obligated to take ("as you probably know", "two small text changes", "You don't need to make any other changes at this time", "These are small and quick changes"). I'm beginning to winder if you have to pass a condescension test before you are fully accepted to the dark side and become a project manager.
After getting clarification about the idiocy of these demands, my manager informed this dolt of the error of his assumptions:
From: MGR X (My Manager)
Sent: Tuesday, April 26, 2005 4:30 PM
To: SPM
Subject: RE: Event Planning Enterprise Software

SPM,

That change wouldn't make a lot of sense since these are check boxes (basically "yes" or "no" questions)
"On-site" refers to on-premises events if checked, somewhere else if not.
"In House" indicates the event is an internal (company sponsored) event. It has nothing to do with the location.

MGR X
Any normal human being would realize that they had made a mistake, and leave it at that. But not this SPM...
From: SPM
Sent: Tue 4/26/2005 5:08 PM
To: MGR X (My Manager)
Subject: RE: Event Planning Enterprise Software
MGR X,
I appreciate what you are saying, AND you have to realize that the way it is currently set up doesn't fit with their business needs.
What they need (and have requested) is a way of distinguishing between on-site and off-site events. Remember, this fits with how they are currently using the calendar. That is why they want the wording changed. Right now they are using it to indicate which events are "On-site" (in our building) and "Off-site" (not in our facility).
It is NOT important for them to record whether or not this is a company sponsored event. That is handled in another part of the process.
Remember, when it comes to requirements and business needs, the customer is always right. They are the one's who will be using the software, and they are the one's who will be paying for the software. (The development cost is coming out of their budget).
So, please make the change.

Thanks.
SPM
I've already pointed out the idiocy of his request, so further refuting the complete gibberish of his response would be pointless.But I wil point out the additional condescending comments: his use of capitalization is insulting, he incorrectly parrots what was clearly explained to him in the previous e-mail, and he orders my manager around like he's his boss (which he is clearly not).
Once again, my manager attempts to explain (in a dialect of moron) why this is a bad idea:
From: MGR X
Sent: Wednesday, April 27, 2005 8:38 AM
To: SPM
Subject: RE: Event Planning Enterprise Software

SPM,

A guy walks into an auto repair shop and tells the manager, "I would like to put oil in my radiator instead of water."
The manager replies, "That won't work." The guy's project manager adds, "My client would like oil in the radiator. Please, just do it."
The manager points to the sign that states, "We reserve the right to refuse service to anyone." Knowing he is ultimately responsible for the work in his shop, the manager declines the request.

The moral of the story: clearly the customer AND the project manager are not always right.

If they need to be trained, we'll be happy to do that. Anyone with experience in development knows that you can't just change what a field in the database represents. It is called "referential integrity". I have included the definition below:

A feature provided by relational database management systems (RDBMS's) that prevents users or applications from entering inconsistent data. Most RDBMS's have various referential integrity rules that you can apply when you create a relationship between two tables.

For example, suppose Table B has a foreign key that points to a field in Table A. Referential integrity would prevent you from adding a record to Table B that cannot be linked to Table A. In addition, the referential integrity rules might also specify that whenever you delete a record from Table A, any records in Table B that are linked to the deleted record will also be deleted. This is called cascading delete. Finally, the referential integrity rules could specify that whenever you modify the value of a linked field in Table A, all records in Table B that are linked to it will also be modified accordingly. This is called cascading update.

Placing the mouse over the description "In-house" or "on-site" shows the user the definition of the field.
We can hide the "In-house" check box if they would like, however it does serve a purpose in the status reporting section of the Event Calendar System.
Regarding the "on-site" check box, a check means the event is "ON-SITE", no check means the event is "OFF-SITE".

If you would like to discuss this with the customer, I will be happy to attend that meeting.

MGR X
Yes, it was condescending and maybe even insulting, but it was justified. It would be too much to expect it all to end here, though...
From: SPM
Sent: Thursday, April 28, 2005 10:10 AM To: MGR X
Subject: RE: Event Planning Enterprise Software - a solution

MGR X,

In the food industry, the phrase "on-site" and "in house" mean the same thing, and therefore IT IS VERY CONFUSING TO EVERY PERSON who tries to use it. Your interface design is NOT INTUITIVE or useful to the people it is suppose to serve. Because of the high turnover in this industry, the software needs to be intuitive and fit the way they are doing business. They don't want software that is going to be confusing or require special training.

The following is a solution that could work without changing the integrity of the database. It would still maintain the meaning of the underlying data that is stored in each field.

I would suggest replacing the tick box that is labeled "On Site" with 2 radio buttons. One radio button would be labeled "On-Site" and the other would be labeled "Off-Site". Because they are radio buttons, only one or the other could be selected at a time. Since it is a binary (on/off) answer, the data can still be recorded in the same way, in the same field, in the database. This does NOT require a database change. It merely requires an interface change.

The tick box that is labeled "in house" could have the text label changed to "[Company Sponsored] Event". Again, this would not change the integrity or meaning of the data. It would only make the interface clearer and more intuitive to the user. Also, because CEO can have a personal event "On-Site" or "Off-Site", the user should be able to select this tick box with either one of their site selections.

Think about this for a while and let me know.

SPM
There was more, but that was the end of the e-mail trail that I am privy to. Be assured that SPM was reprimanded for his highly technical use of the term "tick box" as well as attacks on the "interface design" (the system design was based on the requests of the previous manager for that department). I don't know if the fact that he completely changed his request from the first e-mail to this final e-mail was pointed out. It's sad that, if we had done exactly as he ordered us to do in his initial request, the system would have been seriously horked up.
In the end, I made the retard-friendly change (is it really necessary to use a radio button with only two options to replace a checkbox?). It's never ending. I live an oddly Dilbertesque existence.
Movie Reviews
Spanglish

This movie surprised me. I didn't go see it in the theater because I was expecting a comedy, with Adam Sandler in a starring role, not a drama. And I didn't know that much about it. That goes to show that a good title will help sell a movie. The movie is a nutshell: A young mother (Paz Vega) is abandoned by her husband in Mexico. He leaves her and her daughter penniless, so they head to the land of opportunity, Los Angeles. She doesn't speak a word of English, but her daughter learns quickly and acts as her translator. She works various crap jobs until one day she gets hired as a housekeeper for a famous chef (Sandler) and his nutty wife (Tea Leoni). The housekeeper helps with the kids' self-esteem and busts her butt to learn English while the nutty wife is cheating on her husband and, of course, the husband falls for the housekeeper. They live happily ever after (not the wife, no love for her). It sounds sappy when I lay it all out, but it was actually pretty good, thanks to Paz Vega and Shelbie Bruce (the young actress who played her daughter). Adam Sandler is not a great dramatic actor. He doesn't have the tools to convincingly show a very broad range of emotions. Don't get me wrong, he's great comedic actor. But he should probably stick with his strengths.
A Lot Like Love

I only saw this movie because I was at the theater and nothing else was starting soon enough (and Julie wanted to see it). I have a sever disliking for Ashton Kucher. Amanda Peet is extremely cute and a decent actress, but it's hard to be convincing in a role when you're playing opposite Kelso. A brief summary of the movie: Ashton Kutcher's character flys to New York to hang out with his older brother. He sees an attractive punkish girl at the airport and manages to hook up with her during the flight in the restroom, but she was only out for rebound nookie, so he's out of luck. But...he manages to run into her repeatedly in that tiny little hamlet of New York and they get to know one another (she teases him and gets his phone number so she can see if he's still a loser at the culmination of his five-year plan. TIme goes by, she ends up calling him, they do stuff, the seperate, the get back together...repeat. Finally, they end up together and live happily ever after. Another sappy story that really was sappy. Blech. The only redeeming quality was Amanda Peet's cuteness.
Elektra

This film got such horrid reviews that I avoided seeing it in te theaters. I'm sure the association with that massive crap-fest Daredevil didn't help, either. But it was better than I expected (then again, my expectations couldn't have been much lower). The requisite summary: Jennifer Garner is a cold ruthless assassin, Elektra. She was raised by some weird British/Buddhist monk school looking for the next chosen one who will do something (never made clear). Elektra has too much rage (anger leads to the Dark Side, you know) and is booted from school. She inadvertently gets to know one of her targets before she finds out that she's supposed to whack them, can't do it and ends up saving them from other assassins. The young girl she saves turns out to be the current potential chosen one. She saves her, finds out the whole thing was a test by her British-Buddhist mentor and is accepted back into the fold (I think. I can't actually remember how the film ends). I actually managed to watch the deleted scenes when this one was over. Ironically, one of the deleted scenes was Afflak appearing to Electra in a dream. Gee, I wonder why they cut that out of the film? The special effects were silly, the bad guys' abilities were too far-fetched and the whole British guy at a Buddhist monastery was weird.
Tell me to shut up or, if you're really smart, how right my opinions are. So far, 2 people (other than me) have had something to say.