early Wednesday November 3, 2004
Random Thoughts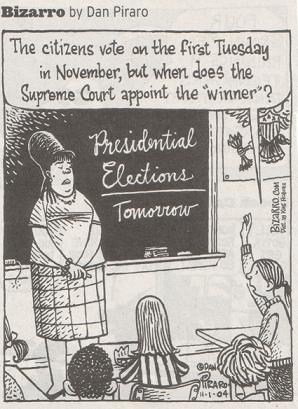 I voted today.
The ballots have been different each of the last three times I have voted. I wonder what they will be next time after the lawyers finish ripping into the current SAT method of voting.
It appears that Dubya is going to take this election, but on the off chance that he doesn't, I hope he takes the high road and does not pursue the highest office with a pack of bloodthirsty lawyers. I have no doubt that Kerry will take this very path if he loses the election. There have already been reports of 18,000 lawyers standing ready to dispute the results, polling methods, and anything else they can think of to muddy the waters and earn their enormous retainers.
An update from later on Wednesday...
John Kerry is, surprisingly, not disputing the election results (probably due to the futility of doing so--the votes in question would not skew things in his favor, thus rendering any objections moot). Dubya has retained his office and the house and senate are dominated by the GOP. It will be interesting to see how the next four years proceed.
Moving on...an article on MSN from earlier this week discussed the Illinois State Board of Education's expectations for eighth grade math skills . An online testis available to demonstrate the level of knowledge that an eighth grade student in Illinois is expected to have. I decided to give the test a try and managed not to embarrass myself too badly--I made only one really bone-headed mistake on my first and only attempt. I doubt that I could have passed this test in eighth grade. The algebra and geometry questions, while simple, were not subjects I explored until High School.
I guess kids are expected to be smarter these days...yet are actually a lot dumber. Weird.
Am I the only one offended by the barrage of campaign signs littering every street and corner? I loathe seeing campaign propaganda that will, in a week, be nothing more than more trash in a landfill.
Have you heard about the land in Alaska that has been opened up for oil drilling--land that was apparently, until recently, designated as protected. Granted, the drilling itself is not inherently harmful to the environment, but the seemingly unavoidable oil spills and other pollutants/habitat destruction that often follow the oil harvesting will wreak havoc on the flora and fauna that the native people depend on for survival. There is more to the story if you read the article. It's not all bad news.
I have also recently heard that land in Utah that was once designated as protected has been put on the auction block for the highest corporate bidder. These pristine desert territories are going to be forever altered, and not in a good way, by industrial development.
I know I'm sounding overly reactionary, but I have an appreciation for the majesty of nature. Granted, the Earth could care less about humanity... There is nothing we can do to the Earth that it won't be able to undo in a few thousand years. Sure, species will come and go.
They do every day.
I don't know how quickly they are "coming," but they are "going" under man's watch at a rate of about two per hour (a little tidbit of information I picked up at the San Diego Wild Animal park). Humanity will only realize that it has overstepped its bounds when it is too late...
I received an insightful email that explains, in the simplest terms, why the U.S.A. blew the crap out of Iraq. If you want to read it, you can click here. If you want to close this, you can click here.
I haven't drawn anything very interesting lately. I have uploaded a few new cartoon sketches, but nothing very noteworthy. I also haven't been to a movie in a few weeks. The current crop of movies has not appealed to me at all. I haven't really been watching movies on video, either. I'm not sure where my time has been going.
Rebates

You would think that I would learn my lesson and stop messing around with mail-in rebates, but in the barely intelligible words of Britney Spears, "Oops, I did it again." Before I expound on my latest rebate adventure, here's an update on the rebate for the 1 GB compact flash card that I purchased:
It has not come yet, but I haven't received any indication that it will not be forthcoming, either. So I am hoping that no news is good news. The online status of my rebate also seems to indicate that things are progressing smoothly.
And now, my latest foray into the fun-filled world of mail-in rebates: I purchased a refrigerator and washer & dryer last weekend (a quick way to drop a couple of grand) from Sears. Both the refrigerator and the washer and dryer included mail-in rebates, so I now get to start the process anew. I haven't received the items yet, so the rebate process has not yet begun, but should commence within a week or two (if they are delivered as scheduled). These mail-in rebates are substantially more than their predecessors (totaling almost $300), so I am hoping that they are issued without any problems.
New Computer Woes

As I mentioned last time, I have a new computer. It's a sweet ride, but has one problem that I have been unable, no matter what I try, to correct.The DVD drive does not play movies. I thought this was due to a conflict with the RealTek sound driver for the onboard audio device (after receiving a message from Windows Error Reporting service that pointed the finger that way), so I bought a sound card.
The good news: I now have sound.
The bad news: I still am unable to watch DVDs on my PC.
The weird thing about this problem is that the DVD drive functions perfectly as a data drive. I can read CDs and DVDs, install programs, copy files from a DVD...but I can't play a movie. I have tried switching the CD burner and DVD drive master/slave jumpers, uninstalling and reinstalling the DVD software (WinDVD), removing the device from Windows and reinstalling...but the problem persists. This is the same drive that was in my previous PC and played movies with no problem with the same copy of XP Pro. The motherboard is new and improved, there is twice as much memory, the processor is faster...all things that should improve the playback abilities of the DVD drive, but no...
Anyone out there...help?
Badbartopia Updates

I have made few changes to the site since my last rant. The Instant Messenger application (BIM) was moved to the Badbartopia menu in My Favorites. I have added a BLOG (that I am calling BadBlogTopia) to this same menu, but it is currently under construction. I may have shifted the other menu links to outside stuff around, but I can't remember any specific changes.
The Douglas Adams page is back online, but has not been updated significantly other than to make it more compliant to non-IE browsers. I haven't begun the Highlander or Middle Earth page integration yet. Soon, I hope. The pictures of my kids also remain unavailable. Which is unfortunate, because I have some new ones to post.
Opus
Opus has been, for me anyway, less than exceptional the past few weeks. The only strip that caught my attention was October 17th's. It was still a little too political, but I thought the inclusion of the First-twins, Jenna and Barbara, was pretty funny. Maybe now that the election is finally over, Berke will again don his whimsical storytelling hat and stop with the political stuff.
Books
The Lone Drow

This is part II of RA Salvatore's Hunter's Blade trilogy, picking up where the events of The Thousand Orcs left off. The pace of the book was, at times, more plodding than the first. The battle scenes were fast, furious and artfully executed, but many of the scenes between these action scenes weren't quite as engaging.
That's not to say that I didn't enjoy this book. I did. And I look forward to reading the third (which has been out for about a month now). As with the first novel, this one has very eye catching front and back cover art.
The novel continues the tale of Drizzt, Bruenor, Catti, Wulfgar and Regis (although they are never a single traveling party in this novel and never come together with a satisfying reunion).
I was just reading my review of The Thousand Orcs and I have to admit that I am getting lazy. That, and the fact that I finished this book over a week ago, are lending to a weak review. Sorry about that.
Deception Point

This is another Dan Brown thriller that was written before the immensely popular DaVinci Code and deals with contemporary not-so-secret, but equally cloaked in mystery, government agencies rather than the shadowy, mystery shrouded illuminati or Knights Templar or other historic bodies.
My earliest impressions, when reading this novel, were that Dan Brown is the John Grisham of thriller novels. I'm not sure exactly how to classify Dan Brown's writing...other than to group him with all the other fiction/thriller authors (that I don't read, so I can't make a comparison to). One common thread I have noticed with Dan Brown's writing...he likes a happy ending. He definitely likes to see good triumph over evil.
I suspected this novel was going to move into the science fiction genre, but it adheres, with some exaggeration/imagination, to fact. His writing shows an abundance of research and his character development makes his characters feel real and interesting--drawing the reader in. John Grisham shares this talent. As did JRR Tolkien--in his fiction, at least. If I had ever read a Tom Clancey novel, I could probably draw some parallels to his novels...but I have not, so I won't.
The novel has several primary characters: a conniving senator with aspirations for the White House, his estranged daughter, a charismatic scientist (the Robert Langdon of this book who brought the greedy professor from Real Genius to mind), and many other colorful and well-developed characters. The basic story surrounds the discovery of an object in the Arctic that could change history. I could tell you more, but I'd hate to ruin the story on the off chance that you decide to pick it up. One thing that made it very timely was the race for president that took place in the story. Interestingly, neither candidate was associated with a political party, and both seemed to share attributes that could have made them members of either party. Neither candidate really had much in common with either John Kerry or George Bush, but the fact that the story was set in an election year story was interesting.
Videos
Roswell Season 2

I have been eagerly awaiting the release of the second season of the Roswell TV series since season 1 arrived in stores. Surprisingly, I didn't rush out and drop $50 to buy it. I waited, with cash clenched tightly in hand, until it went on sale and I finally picked it up for about $35 from Target.
I haven't actually watched all the individual episodes on the DVDs yet. I am only on the third (of six). I also haven't bothered with any of the special features, either. So this review may be a bit premature.
This was a great TV show and I am still amazed that it didn't draw a larger audience. It combined the fantasy elements that have proven successful with Charmed and Smallville with the teenage drama that too many show to mention have survived on alone. Yet it died. All I have is one more season (due in stored the summer of 2005). Three seasons was far too few for such a great series.
Shiri Appleby was on a Sci-Fi channel television show, Darklight, a few weeks ago. She was cast as the immortal, evil, ultra tough demoness, Lilith--the first wife of Adam. It was an interesting show, full of secret society/conspiracy theories and was made much more interesting by the casting of Shiri.
If you are a fan of science-fiction genre television programming, check out Drakh, a fan site for all your favorite Sci-Fi shows.
Feel free to tell me what you think about all of this.