Wednesday November 24, 2004
Mediocrity
Several people have been very complimentary of my meager drawing abilities recently. It's almost enough to convince me that I am more than just another hack of below average ability. But not quite.
The miracle of the Internet: any no-talent goof can foist his substandard crap off on an unsuspecting public regardless of artistic worth and gain an audience through the wonderful magic of the Internet's many search engines. To further illustrate my own artistic unworthiness, there are several new sketches on the My Drawings screens: a Wild Thing, Shelob, The Incredibles, and a sketch of Cameron.
To further prove what a neo-maxi-zoom-dweebie I am (not that more proof is needed..), I bought a set of Russian coins that just arrived last week (mail order). I don't really even collect coins, so I'm not really sure why I got them. Althoug, I suspect that it's because...I am a pirate and do have a mightytreasure chest filled with random world currency and US coins. These Russian coins might just be too fancy to really fit with my other pirate booty. It even came with a Certificate of Authenticity.
I also invested in a set of Star Wars Galactic Heroes (the IG-88 and Zuckuss set). The recommended age for these toys is 3 to 8. I fall a little bit outside that range. I did mention the whole neo-maxi-zoom-dweebie thing, didn't I?
Unrelated to any of the above, here's a funny thing my co-worker, Dan Denney, passed along to me. I'm not sure how he found it, but he sent me a link to an item on the Target web site that had to have been put there by a mischievous web developer working for Target. It has been removed (was actually removed the day after Dan sent it to me), but I grabbed a screen print before it was gone.
Eight Legged Monstrosity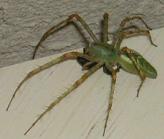 We moved into a new house a couple of weeks ago and met one of our new neighbors last weekend. It was just hanging out on the plant-stand by the front door. I'm not sure if the photo conveys the size of this critter, but its body (from head to tip of abdomen) was nearly an inch long. And it was bright green and yellow. The coloration was so strange that I wasn't immediately sure that this was a spider, but a leg and body part count confirmed that it was. and it was holding a smaller, black, spider beneath its body (food?). Very strange indeed. Does anyone out there recognize this guy and more importantly, does anyone know if it is venomous?
The elections are finally over. What a relief. Berke seems to be slipping back into non-political story-telling mode. His last three strips were all, while not his best work, worthy of scanning and sharing.
The November 7 strip was still kind of "political," but Pickles was present and the ever-trashy Paris Hiltonwas mentioned, so it made the cut.
The November 14 strip was about voter/personal hypocrisy and it struck a chord with me. Score one for Berke.
The November 21 strip was about lecherous old guys', a group which I am moving ever closer to with each passing day, fascination with the younger women. And in a surprising twist, the older woman's preference for guys with fat wallets. And it even used a pick-up line that always makes laugh, "You must be from Tennessee because you're the only 10 I see..." Good stuff.
Books
Dies the Fire

This novel, by S.M. Stirling, is a close relative to the Lucifer's Hammer, the Larry Niven/Jerry Pournelle disaster novel, Robert Adams' post-apocalyptic HoreseClans series or even Orson Scott Card's Folk of the Fringe.
The weakest part of the story is the explanation for the collapse of society. Lucifer's Hammer has a meteor that strikes the Earth, the HorseClans novels and Folk of the Fringe both use nuclear/biological war, but Dies the Fire never really explains why things change, causing a technology and machinery dependent society into a fatal decline.
Also distracting is the Wiccan/New Age theme underlying a good part of the story. It doesn't ruin the story, but it is a little weird. At one point in the story, these same characters do make a Highlander reference ("There can be only one"), so they aren't all bad.
Digital Fortress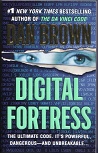 This, Dan Brown's first, novel was inspired by actual events that took place while he was teaching in a New Hampshire college. This novel, much like The DaVinci Code, is about secret codes and code breaking. Unlike The DaVinci Code, the central characters are U.S. government agencies and the codes are broken using big, powerful computers. Unlike The DaVinci Code or Angels and Demons, there are no secret societies causing trouble behind the scenes--the premise is much closer to Deception Point's.

This is another page turner that is difficult to put down. I was, once again, reminded of the skillful character and plot development employed by John Grisham. And, though it is evident that Dan Brown is no programmer by his Hackers-esque explanation of hacking in the story, his research is far-encompassing and very impressive.

Videos
The Incredibles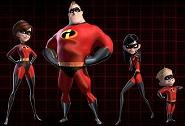 I wasn't really all that anxious to go see this "cartoon," but it was the lesser of many evils at the theater (there hasn't really been a move that I've been dying to see for quite some time) so i shelled out my hard earned cash and expected very little. The CGI was amazing, the story was clever and I was really entertained.
The characters are a collage of numerous superheroes: Superman, Silver Surfer, The Fantastic Four, Flash...but not really any of the above. They are new and unique and thoroughly interesting. I look forward to the imminent sequel.
Twisted
Ashley Judd is always a pleasure to watch in a movie. Samuel L Jackson is unquestionably a great actor. So how could I possibly go wrong with this movie?
Well, for starters, the character, though convincingly acted, that Ashley Judd plays was annoyingly self-destructive. Her character is a smart, sexy, successful police detective with a couple of tragic flaws: a penchant for one night stands and for unwinding nightly by drinking herself stupid.
This was another of those movies that didn't really have a good guy that I felt like rooting for. It was a little too much like real life, I guess. I prefer the fantasy of upstanding, moral...good guys in a story.
Van Helsing

I was stoked about this movie long before it came to theaters, but surprisingly I managed to not see it until it had been out on DVD for weeks. Was it worth the wait? Probably not.
I could have sworn a good part of the soundrtrack was a direct ripoff of Raiders of the Lost Ark. And how about the 1800's version of James Bond's Q? That was interesting.
That's not to say that I didn't enjoy it. I did. Hugh Jackman has been great in every movie I have seen him in (even that horrible travesty with Meg Ryan). Kate Beckinsale is a cutie and did a passable "Transylvanian" accent (like I would know). The special effects were very impressive and the story was convoluted, but familiar enough to be interesting. As an added bonus, Josie Maran was one of the brides of Dracula, but wasn't exactly her usual gorgeous self in this role.
Feel free to tell me what you think about all of this.