Marvels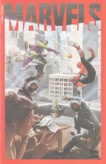 Marvels was a 4 issue mini-series, published monthly from January to April 1994, which is unlike anything you will find on the racks at your local comic shop these days - especially from the big two comic publishers. The thick cardstock covers, in addition to being painted by Alex Ross, have a transparent plastic outer cover. These covers, front and back, are entirely free of text or any other markings - the titles and any other text are found on the plastic outer cover.
I'm going to start with Marvels issue #0 because...well, it's the first issue. Kind of. It was actually published four months after issue #4 hit the newsstands. And unlike the other four issues in the series, it doesn't have a fancy, cardstock cover. The cover material may be unremarkable, but the art is all Alex Ross.
Kurt Busiek explains the purpose of the book on the inside front and back cover:

O

h, look.

Another one of those Zero issues. One of those things comic publishers put out to suck more money out of your pockets. What's in this one - a secret origin? A key story that won't be told in the regular series? A set of trading cards you've got to have to understand anything?

Not this time.

There's nothing in this issue that you need. If you have Marvels #1-4, you have it all - the whole story, the whole series. This is just the behind-the-scenes stuff that made everyone nuts in the first place - the incredible artwork by Alex Ross that we all got to see and be stunned by, but which most of you have only gotten a glimpse of, if you've seen it at al.

So no, you don't need this.

But I bet you want it.
Kurt goes on to tell how he met Alex Ross and how the series came into being. He ends with this.

Say, wait a minute. That was a secret origin. This is a special story that helps you understand the regular series better. And if not trading cards, it's a series of breathtaking illustrations that you'll want to keep as a set for a long time.

Blasted Zero issues. Never mind.
Alex Ross also wrote a piece for the comic. I'll only share the first bit, since most of you have undoubtedly already lost interest.

F

irst of all, I should probably come right out and say I have kind of a difficult time judging between fantasy and reality, so until I get my medication, this is my story and I'm sticking to it.
He goes on to tell how he stumbled into the world of Marvel superheroes, how his partnership with Kurt Busiek started and how the Marvels storyline evolved (all with the same goofy style of storytelling). He concludes with this cool sketch:


The first twelve pages of this book are an Alex Ross illustrated story about the origin of The Human Torch. Very cool.

The last 18 pages are sketches of various Marvel characers: X-Women, Namor, Grimm/The Thing, Doom, Stark/Iron-man and others.

An interesting note about all 5 issues of this series - there is not a single advertisement in any of the books. Not one. In the current Marvel books, every third page is an advertisement - and they are generally not comic-related. This is one of many reasons that I predominantly buy books from independent publishers.
Here are the cover scans (with and without the plastic outer sleeve) from issue 1 and the front covers from the second, third and fourth issues:

"The bystanders had seen the stories in the paper - seen them, chuckled and dismissed them. But it's one thing to read about the impossible -

"- and another to look it in the face."

What would it be like to live in the Marvel Universe? To live through all the drama, excitement and wonder in the exploits of Captain America, the Sub-Mariner and Spider-Man as a witness, rather than a participant? To see the adventures of heroes whose names resonate with legends and wonder, with your own eyes.

You're about to find out.

Through the viewpoint of neophyte news photographer Phil Sheldon, a man on the edge of World War Two and a new age of living wonders, see these marvels as if for the first time, with new awe, amazement, and a touch of fear.

Experience the Marvel Universe from a whole new perspective - yours.
The interior art is, as I mentioned, also fully-painted by Ross. To illustrate, here are sample pages from the first and second issues:

As for the story...
It begins in the late 1930's. World War II is approaching and the Nazis are beginning their conquest of Europe. And then, amidst the madness of war - beings of unimaginable strength and ability begin to appear.
The central figure of all the books is a photographer whose primary focus is catching these "Marvels" on film. It's interesting to read the story from his perspective and to have a whole different angle on the mythology of superheroes. As in most of the superhero movies stories, mankind is essentially mistrustful and ungrateful for the deeds of these larger-than-life heroes - slandering and attacking them at every turn.
If you can find this book, it's a worthy addition to any collection. And I wouldn't say that about a superhero book if I didn't really, really mean it. And if you think this series sounds good, you should check out Ruins.